---
---
93 KZLE is the EXCLUSIVE HOME for Batesville Pioneer Football & Basketball!

Be sure to hear all the action LIVE in the 2014 season! And if you'd like advertise on the broadcasts, call 870.793.4196.
Click Here for the schedule
---
---
---
Big Daddy Randy
| | | |
| --- | --- | --- |
| Monday | 05:00am - 10:00am | More Rock Mornings |
| Tuesday | 05:00am - 10:00am | More Rock Mornings |
| Wednesday | 05:00am - 10:00am | More Rock Mornings |
| Thursday | 05:00am - 10:00am | More Rock Mornings |
| Friday | 05:00am - 10:00am | More Rock Mornings |
Velvet Kenny Loggains
Born: Batesville, Arkansas

Finding anything interesting about me is quite a chore indeed, just ask the wife (insert drum roll here)! But here goes………other than having the same name as some guy with much more hair and much more money than I (you know, that singer/songwriter guy)…I can tell you that aside from LOVING visiting with you on the radio everyday….I LOVE MY WIFE Melanie…I'm so blessed to be able to call my wife my best friend as well (you should hear what she calls me sometimes!) I LOVE MUSIC, I've even tried my hand(s) at drum playing a few times here and there…perhaps I'll see you at the next gig! I LOVE RUNNING…..currently training for my first marathon (I'll be the one towards the back….), hopefully I'll live to tell you about it! I LOVE MY DOPEY DOGS TOO….my boxers Dexter and Roxy RULE THE WORLD!

Chad Whiteaker
While most kids played with Hot Wheels cars and Star Wars action figures, my dad had the greatest thing a child could ever want…a reel to reel tape recorder. I actually used to read the newspaper into the microphone and then play back my "newscast". Little did I know where that was going to take me.

My wife and I are both Batesville natives and we're blessed to be able to raise our children in the same small town where we grew up. On a Friday night in the fall, you'll see us at a Pioneer football game cheering on our alma mater. Other than that, you'll most likely find me in the studio working on a commercial for a client.

Callie Jane
Hey ya'll! My name is Callie Jane… Born and raised an Arkansas girl and proud of it!

My hobbies are cooking, yard work/farm girl work, fishing, hunting, riding my mustang (War Maiden), loving on all animals, building things with my hands, camping, oil painting, having fun with my kiddo's, charity work, and writing songs and poems.

If I could choose my own name, I'd stick with Callie Jane. I love my name and it fits me perfect!

A few things on my bucket list: Skydive, white water raft, and ride my horse off a cliff into a large mass of water.

Would I pick money or true love? I'd pick true love of course without a doubt. Money doesn't buy happiness forever, but a dynamic duo can build an empire together and secure the millions!

Favorites:

Color: any shade of blue….I love blue eyes, blue skies, and water

Movie: Wild Hearts Can't Be Broken, The Notebook, Shaw shank Redemption, Green Mile, Westerns, mostly sappy family movies and occasionally a thriller.

Vehicle: A big truck or Jeep

Pizza: Pepperoni & Jalapeno

Thing to cook: There are so many things I love to cook, but I really like to show off my Chicken Enchilada. Also, a good ol' fashion home cooked meal with lots of garlic.

Vacation Spot: Anywhere with water, mainly Mexico. Would love to go to Montana and ride my mustang.

Holiday: Christmas because it's Jesus' birthday and then we can start a new year. I like Valentine's Day too because it has to do with Love.

Reindeer: Rudolph because he was the underdog and rose above them all!

Cookie: no bake oatmeal chocolate

Dessert: Crème Brule & key lime pie

Ice Cream: Pralines and Cream

I believe in: Constructive Criticism

Guilty Pleasure: Bourbon and coke and cigars

Can't live without: My kiddos, lots of lovin's, and music

Turn on: Manners, passion, and work ethic

Turn off's: No common sense, lack of ambition, and hatefulness

Something people make fun of me for: I have no filter…I will say anything!

Goal in life: To have a home full of love that is self sufficient, built with my two hands, grow all my own food, and never leave the Ranch. While at the same time raising my children to have respect, survival skills, and good work ethic!


Alice Cooper

Rob Grace
Born in Little Rock, Arkansas, Rob is a highly decorated maitre d', quantum theorist, and the founder of Chippendale's. He does not give autographs or interviews and generally avoids people unless they offer to give him cash or a meal at Golden Corral. Thank you and move along.
Donald Hughes
Hey Guys and Gals, I'm Donald Hughes JR. Born in Batesville, Arkansas; Originally from Sulphur Rock, Arkansas; I now live in Cave City, Arkansas

I worked for KZLE – Kicker 93.1FM and The Max93one FM as well as Oldies AM1340 KBTA from the mid to late 90's. I was the assistant music director. I then left W.R.D. Entertainment and came back 10 years later joining now a family of 6 radio stations and the Arkansas Weekly Newspaper. I am proud to be a part of a growing team and family!

You can catch me weekdays on KKIK – KIX 106.5FM/AM1130 KAAB from 12noon - 3pm Monday thru Friday as I spin The Greatest Songs Of All Time just for you!

Then join me weekends on 93 KZLE and Arkansas 103.3FM KWOZ!!

My favorite music – it's hard to say I love all kinds from the 1940's up to current date.

My favorite TV series is, of course for those of you who know me, is "The Vampire Diaries" & "Supernatural."

My favorite food is my mom's home cooked meals. :-) yum yum!!

Favorite candy bar: well let's see anything Hershey's or Reeses.

Favorite Movie: Hard to say I love all kinds Comedy, Horror, Suspense, Drama, Action, Thriller and anything Madea – hats off to you Tyler Perry you the man!! haha

First concert I ever went to was the Sammy Hagar Marching To Mars tour in Little Rock at the amphitheater it was so freaking awesome never had so much fun for 2 1/2 hrs.

Check out some of my favorite links on the web:
http://www.995hitsnow.com
http://www.ar1033.com
http://www.cr93.com
http://www.arkansasweekly.com
http://top40-charts.com
http://www.billboard.com

Wanna keep up with me or just chat look me up on FACEBOOK – ADD ME or follow me on Twitter and I will mention you in during my show!
http://www.facebook.com/dewickeddjdon
https://twitter.com/DJD995


Dee Snider

Steve Downes
Riki Rachtman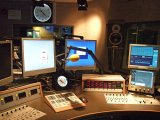 NO JOCK ROCK!!!
| | | |
| --- | --- | --- |
| Saturday | 07:00pm - 10:00pm | Non Stop No Jock Rock |